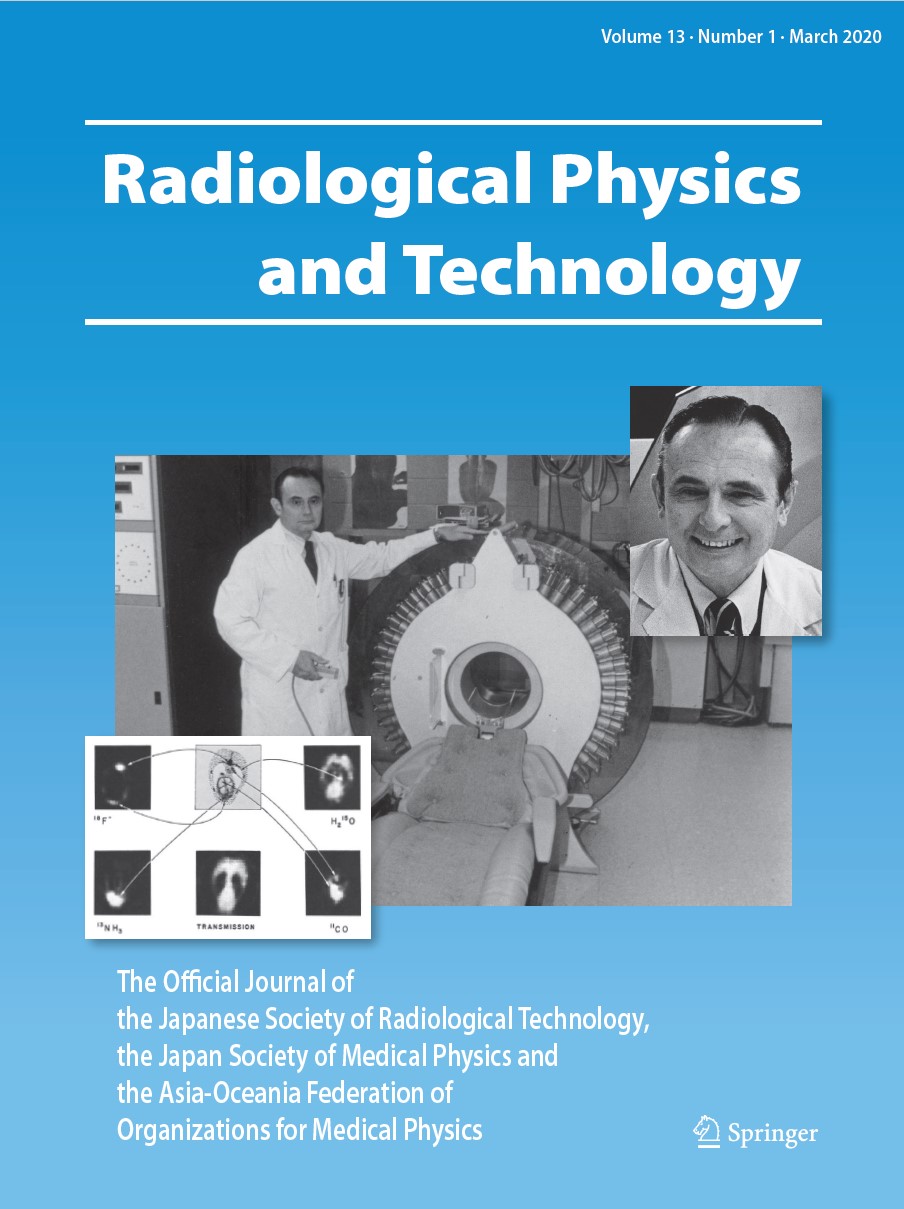 Radiological Physics and Technology, a quarterly journal devoted to continuing medical education in the radiological sciences, is the official journal of the Japan Society of Medical Physics and the Japanese Society of Radiological Technology (published in English).
http://link.springer.com/journal/12194
RPT Editorial Committee
Editor in Chief
Nobuyuki Kanematsu, PhD (QST)
Editorial Assistant
Elisabeth Lanzl, AM (University of Chicago, Chicago, U.S.A.)
Deputy Editors

Fujio Araki, PhD (Kumamoto University)
Tomoyuki Hasegawa, PhD (Kitasato University)
Takeji Sakae, PhD (Tsukuba University)
Shigehiko Katsuragawa, PhD
Yoshie Kodera, PhD
Shigeru Sanada, PhD

Senior Advisers

Kunio Doi, PhD
Masahiro Endo, PhD
Toward Getting IF
The Impact Factor (IF) is an indicator of how many citations an article has received, and is published annually by Clarivate Analytics for selected journals [1-3]. RPT journals are not yet assigned an IF, but they are included in the company's Emerging Sources Citation Index (ESCI) database, which is used to calculate the IF. According to the publisher's own calculations, the latest estimate is 1.427 (2019), and more citations are needed. If the journal becomes a journal with IF, more excellent academic papers will be submitted than ever before, and it will be transformed into an academic journal that is even more highly regarded internationally.
In order to achieve this, we need to develop the RPT journal by ourselves. We hope that you will submit your excellent research results to RPT for future publication. We also hope that you will make use of our recent publications when you write your academic papers.
List of citations for papers published in RPT
The Impact Factor (IF) is calculated from the number of citations for the two years following the year of publication and the year after that.
The list of the number of citations for papers published in each year is as follows
(update at August 24, 2023)
journals published in 2023 journals published in 2022 journals published in 2021 journals published before 2020
How to browse RPT online journal
The international journal "Radiological Physics and Technology" (RPT) is delivered to JSMP members twice a year as a booklet (issued on January 20th and July 20th). In addition, it is also published as an online journal that is published online as soon as each article is accepted, making the latest articles available worldwide.
Procedure to use RPT online journal
Access JSMP top page
On the left side of Top page, you can find [My Page] and click it. Enter your membership number and password. (If you do not know the password, please click inquiry function on the login screen.)
Access online journal from "View Journal「ジャーナルの閲覧」"
Doi Award (土井賞)
The Doi Award recognizes outstanding papers in each field for each volume of RPT.
Vol. (Year)
Field
First Auther
Title
Vol.15 (2022)
Diagnostic Imaging
Takayuki Okamoto
Patch-based artifact reduction for three-dimensional volume projection data of sparse-view micro-computed tomography
Nuclear Medicine,MRI and Informatics
Yuma Iwao
Marker-less and calibration-less motion correction method for brain PET
Radiation Therapy Physics
Akihiro Nohtomi
First optical observation of 10B-neutron capture reactions using a boron-added liquid scintillator for quality assurance in boron neutron capture therapy
Vol.14(2021)
Diagnostic Imaging
Takafumi Nemoto
Effects of sample size and data augmentation on U-Net-based automatic segmentation of various organs
Nuclear medicine / Magnetic resonance imaging
Keisuke Matsubara
Iterative framework for image registration and partial volume correction in brain positron emission tomography
Radiation metrology / Radiation therapy physics
Megumi Oya
Investigation of clinical target volume segmentation for whole breast irradiation using three-dimensional convolutional neural networks with gradient-weighted class activation mapping
Vol.13 (2020)
Diagnostic Imaging
Yuya Onishi
Investigation of Pulmonary Nodule Classification Using Multi-Scale Residual Network Enhanced with 3DGAN-Synthesized Volumes
Nuclear Medicine,MRI and Informatics
Kazuki Motegi
Evaluation of bone metastasis burden as an imaging biomarker by quantitative single-photon emission computed tomography/computed tomography for assessing prostate cancer with bone metastasis: a phantom and clinical study
Radiation Therapy Physics
Yoshiro Ieko
The impact of 4DCT-ventilation imaging-guided proton therapy on stereotactic body radiotherapy for lung cancer
Vol.12(2019)
Diagnostic Imaging
Masatoshi Saito
Simulation of photon-counting detectors for conversion of dual-energysubtracted computed tomography number to electron density.
Nuclear Medicine,MRI and Informatics
Natsuki Minoura
A complementary scheme for automated detection of high‑uptake regions on dedicated breast PET and whole‑body PET/CT.
Radiation Therapy Physics
Noriyuki Kadoya
Evaluation of a 3D-printed heterogeneous anthropomorphic head and neck phantom for patient-specific quality assurance in intensitymodulated radiation therapy
Vol.11 (2018)
Diagnostic Imaging
Chiaki Tominaga
Tilted-wire method for measuring resolution properties of CT images under extremely low-contrast and high-noise conditions
Nuclear Medicine,MRI and Informatics
Chiharu Kai
Computer-aided diagnosis with radiogenomics: Analysis of the relationship between genotype and morphological changes in brain magnetic resonance images
Radiation Therapy Physics
Nobuyuki Kanematsu
Estimation of linear energy transfer distribution for broad-beam carbon-ion radiotherapy at the National Institute of Radiological Sciences
Vol.10 (2017)
Diagnostic Imaging
Sayed Ahmad Zikri Bin Sayed Aluwee
Evaluation of pre-surgical models for uterine surgery by use of three-dimensional printing and mold casting
Nuclear Medicine,MRI and Informatics
Nobuyuki Kudomi
Fully parametric imaging with reversible tracer 18F-FLT within a reasonable time
Radiation Therapy Physics
Fumio Hashimoto
Dose reduction technique in diagnostic X-ray computed tomography by use of 6-channel multileaf collimators
Vol.9 (2016)
Diagnostic Imaging
Tomomi Takenaga
A computer simulation method for low-dose CT images by use of real high-dose images: a phantom study
Nuclear Medicine,MRI and Informatics
Koya Fujimoto
Automatic ROI construction for analyzing time-signal intensity curve in dynamic contrast-enhanced MR imaging of the breast
Radiation Therapy Physics
Kazuki Takegami
Energy dependence measurement of small-type optically stimulated luminescence (OSL) dosimeter by means of characteristic X-rays induced with general diagnostic X-ray equipment
Vol.8 (2016)
Radiation Therapy Physics
Genichiro Wakabayashi
Applicability of self-activation of an NaI scintillator for measurement of photo-neutrons around a high-energy X-ray radiotherapy machine
Nuclear Medicine,MRI and Informatics
Seiji Shirakawa
Attenuation correction of 111In planar images by use of dual energy, fundamental study by Monte Carlo simulation
Diagnostic Imaging
Kazuhiro Sato
Aliased noise in X-ray CT images and band-limiting processing as a preventive measure
Vol.7 (2015)
Diagnostic Imaging
Xiangrong Zhou
Development and evaluation of statistical shape modeling for principal inner organs on torso CT images.
Nuclear Medicine,MRI and Informatics
Harumasa Kasai
A method for assessing metabolic information on liver and bone marrow by use of double gradient-echo with spectral fat suppression.
Radiation Therapy Physics
Hiroyuki Date
A formulation of cell surviving fraction after radiation exposure.
Vol.6 (2014)
Diagnostic Imaging
Risa Toge
Computerized image-searching method for finding correct patients for misfiled chest radiographs in a PACS server by use of biological fingerprints
Radiation Therapy Physics
Mutsumi Tashiro
Technical approach to individualized respiratory-gated carbon-ion therapy for mobile organs
Nuclear Medicine,MRI and Informatics
Yoshiyuki Ishimori
Feasibility of MR perfusion-weighted imaging by use of a time-spatial labeling inversion pulse
Vol.5 (2013)
Diagnostic Imaging
Naoki Kamiya
Automated segmentation of psoas major muscle in X-ray CT images by use of a shape model: preliminary study
Radiation Therapy Physics
Satoshi Kida
In-treatment 4D cone-beam CT with image-based respiratory phase recognition
Nuclear Medicine,MRI and Informatics
Kazumasa Inoue
Optimization of injection dose based on noise-equivalent count rate with use of an anthropomorphic pelvis phantom in three-dimensional 18F-FDG PET/CT
Vol.4 (2012)
Diagnostic Imaging
Eiichiro Okumura
Effectiveness of temporal and dynamic subtraction images of the liver for detection of small HCC on abdominal CT images: comparison of 3D nonlinear image-warping and 3D global-matching techniques
Radiation Therapy Physics
Kenya Murase
Simulation and experimental studies on magnetic hyperthermia with use of superparamagnetic iron oxide nanoparticles
Nuclear Medicine,MRI and Informatics
Daiki Magome
Automated segmentation method of white matter and gray matter regions with multiple sclerosis lesions in MR images
Vol.3 (2011)
Nuclear Medicine,MRI and Informatics
Tomoyuki Hasegawa
Creation and application of three-dimensional computer-graphic animations for introduction to radiological physics and technology
Radiation Therapy Physics
Shinichiro Mori
Practical approaches to four-dimensional heavy-charged-particle lung therapy
Diagnostic Imaging
Takashi Ohnishi
Three-dimensional motion study of femur, tibia, and patella at the knee joint from bi-plane fluoroscopy and CT images
Vol.2 (2010)
Diagnostic Imaging
Toshihiro Ogura
Study of intra-abdominal fat distribution in sigmoid colon cancer in Japanese patients by use of MDCT data
Radiation Therapy Physics and Health Physics
Toshioh Fujibuchi
Measurement of therma l neutron f luence distribution with use of 23Na radioactivation around a medical compact cyclotron
Nuclear Medicine,MRI and Informatics
Taiga Yamaya
Imaging simulations of an "OpenPET" geometry with shifting detector rings
Vol.1 (2009)
Diagnostic Imaging
Rie Tanaka
Development of a cardiac evaluation method using a dynamic flat-panel detector (FPD) system: a feasibility study using a cardiac motion phantom
Radiation Therapy Physics and Health Physics
Teiji Nishio
Experimental verification of proton beam monitoring in a human body by use of activity image of positron-emitting nuclei generated by nuclear fragmentation reaction
Nuclear Medicine,MRI and Informatics
Hideaki Haneishi
Simplified simulation of four-layer depth of interaction detector for PET
Most Citation Award
The Most Citation Award recognizes most cited papers of each volume of RPT during two years after the publication.
Vol. (Year)
Authors
Paper Title
Vol.13
(2020)
Hiroshi Fujita
AI-based computer-aided diagnosis (AI-CAD): the latest review to read first" Radiol Phys Technol 13, 6–19 (2020).
Ayaka Sakai, Yuya Onishi, Misaki Matsui, Hidetoshi Adachi, Atsushi Teramoto, Kuniaki Saito, Hiroshi Fujita
A method for the automated classification of benign and malignant masses on digital breast tomosynthesis images using machine learning and radiomic features. Radiol Phys Technol 13, 27–36 (2020)
Yohei Inaba, Koichi Chiba, Yuuki Murabayashi, Mime Endo,Kazuki Otomo, Masayuki Zuguchi
An initial investigation of a wireless patient radiation dosimeter for use in interventional radiology" Radiol Phys Technol 13, 321–326 (2020)
Tatsunori Saho, Hideo Onishi
Quantitative comparison of hemodynamics in simulated and 3D angiography models of cerebral aneurysms by use of computational fluid dynamics" Radiol Phys Technol 8, 258–265 (2015)
Vol.12
(2019)
Kaji Shizuo, Kida Satoshi
Overview of image-to-image translation by use of deep neural networks: denoising, super-resolution, modality conversion, and reconstruction in medical imaging. 12, 235-248(2019)
Malekzadeh Reza, Mehnati Parinaz, Sooteh Mohammad Yousefi, Mesbahi Asghar
Influence of the size of nano- and microparticles and photon energy on mass attenuation coefficients of bismuth-silicon shields in diagnostic radiology. 12, 325-334(2019)
Hashimoto Fumio, Kakimoto Akihiro, Ota Nozomi, Ito Shigeru, Nishizawa Sadahiko
Automated segmentation of 2D low- dose CT images of the psoas-major muscle using deep convolutional neural networks. 12, 210-215(2019)
Vol.11
(2018)
Haga Akihiro, Wataru Takahashi, Shuri Aoki, Kanabu Nawa, Hideomi Yamashita, Osamu Abe, Keiichi Nakagawa
Classification of early stage non-small cell lung cancers on computed tomographic images into histological types using radiomic features: interobserver delineation variability analysis. 11, 27–35(2018)
Toshiyuki Terunuma, Aoi Tokui, Takeji Sakae
Novel real-time tumor-contouring method using deep learning to prevent mistracking in X-ray fluoroscopy. 11, 43–53(2018)
Kajikawa Tomohiro, Noriyuki Kadoya, Kengo Ito, Yoshiki Takayama, Takahiro Chiba, Seiji Tomori, Ken Takada, Keiichi Jingu
Automated prediction of dosimetric eligibility of patients with prostate cancer undergoing intensity- modulated radiation therapy using a convolutional neural network. 11, 320–327(2018)
Vol.10
(2017)
Kenji Suzuki
Overview of deep learning in medical imaging.10, 257–273(2017)
Bram van Ginneken
Fifty years of computer analysis in chest imaging:rule-based, machine learning, deep learning.10, 23–32(2017)
Katsuyuki Taguchi
Energy-sensitive photon counting detector-based X-ray computed tomography. 10, 8–22(2017)
Vol.9
(2016)
Nobuyuki Miyahara, Toshiaki Kokubo, Yukihiro Hara, Ayuta Yamada, Takafumi Koike, Yoshihori Arai
Evaluation of X-ray doses and their corresponding biological effects on experimental animals in cone-beam micro-CT scans. 9, 60–68(2016)
Rie Tanaka
Dynamic chest radiography: flat-panel detector (FPD) based functional X-ray imaging. 9, 139–53(2016)
Vol.8
(2015)
Tomomi Takenaga, Shigehiko Katsuragawa, Makoto Goto, Masahiro Hatemura, Yoshikazu Uchiyama, Junji Shiraishi
Modulation transfer function measurement of CT images by use of a circular edge method with a logistic curve-fitting technique. 8, 53–59(2015)
Kazuki Takegami, Hiroaki Hayashi, Hiroki Okino, Natsumi Kimoto, Itsumi Maehata, Yuki Kanazawa, Tohru Okazaki, Ikuo Kobayashi
Practical calibration curve of small-type optically stimulated luminescence (OSL) dosimeter for evaluation of entrance skin dose in the diagnostic X-ray region. 8, 286–294(2015)
Keiko Morikawa, Fumito Okada, Hiromu Mori
Expiratory computed tomographic techniques: A cause of a poor rate of change in lung volume. 8, 153–159(2015)
Vol.7
(2014)
Takeshi Oono, Fujio Araki, Shoya Tsuduki, Keiichi Kawasaki
Monte Carlo calculation of patient organ doses from computed tomography. 7, 176–182(2014)
Atsushi Urikura, Katsuhiko Ichikawa, Takanori Hara, Eiji Nishimaru,
Spatial resolution measurement for iterative reconstruction by use of image-averaging techniques in computed tomography. 7, 358–366(2014)
Hiroshige Mori, Kichiro Koshida, Osamu Ishigamori, Kosuke Matsubara
Evaluation of the effectiveness of X-ray protective aprons in experimental and practical fields. 7, 158–166(2014)
Outstanding Reviewer Award
The Outstanding Reviewer Award recognizes outstanding reviewers for each volume of RPT.
Vol. (Year)
Outstanding Reviewers
Vol.15
(2020)
Eleftherios Pappas PhD, National and Kapodistrian University of Athens
Masatoshi Kondo PhD, Kyushu University
Weishan Chang PhD, Tokyo Metropolitan University
Naoki Ohno PhD, Kanazawa University
Satoshi Ito PhD, Utsunomiya University
Hiroyuki Kudo PhD, University of Tsukuba
Vol.14
(2021)
Hideki Takegawa PhD, Kansai Medical University Hospital
Yasuo Takatsu PhD, Tokushima Bunri University
Takashi Ueguchi PhD, National Institute of Information and Communications Technology
Morihito Shimizu PhD, National Institute of Advanced Industrial Science and Technology
Vol.13
(2020)
Mutsumi Tashiro PhD, Heavy Ion Medical Center, Gunma University
Chisako Muramatsu PhD, Faculty of Data Science, Shiga University
Pei-Jan Lin PhD, Virginia Commonwealth University Medical Center
Takashi Hanada PhD, Department of Radiology, Keio University
Tsutomu Zeniya PhD, Graduate School of Science and Technology, Hirosaki University
Shunsuke Yonai PhD, Department of Accelerator and Medical Physics, National Institute of Radiological Sciences, QST
Vol.12
(2019)
Nobuyuki Kanematsu PhD, Department of Accelerator and Medical Physics, National Institute of Radiological Sciences, QST
Toru Yamamoto PhD, Faculty of Health Sciences, Hokkaido University
Kosuke Matsubara PhD, Faculty of Health Sciences, Kanazawa University
Masanobu Ibaraki PhD, Department of Radiology and Nuclear Medicine, Akita Research Institute of Brain and Blood Vessels
Satoru Endo PhD, Academy of Science and Technology, Hiroshima University