Conflict of Interest
Important Disclosure of Conflict of Interest (COI)
All authors are required to disclose any conflicts of interest prior to the submission of any papers in the subject matter of which any company, public agency, or organization has a financial interest. A "Declaration on Conflict of Interest" must be shown in your second slide for both of the CyPos and presentation.
Please download sample slide shown below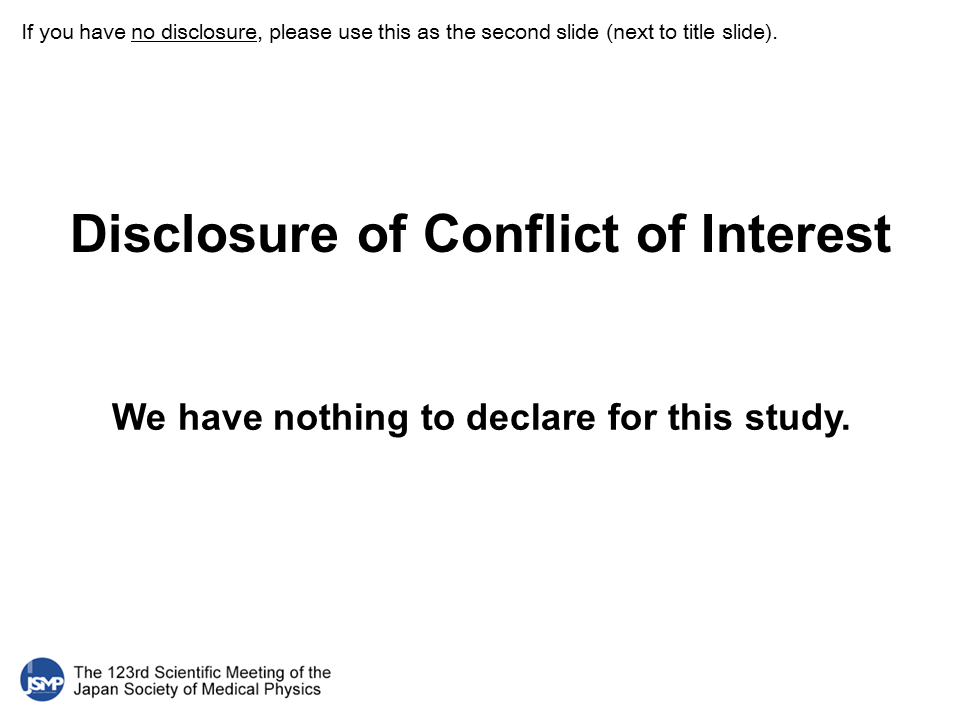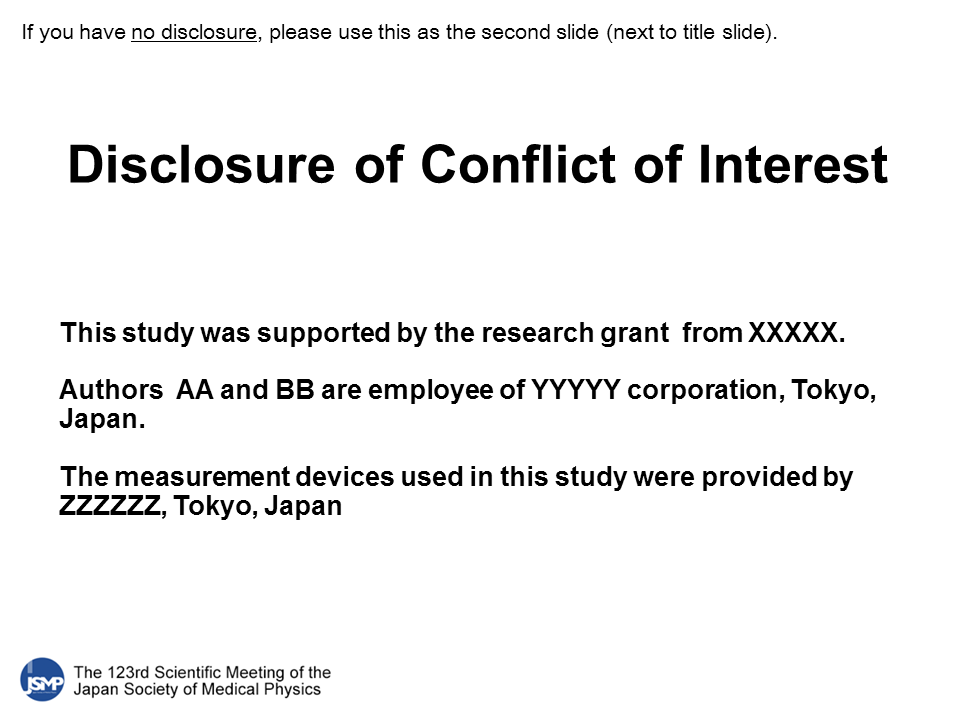 Proceedings
Please follow these instructions to develop a successful manuscript for publication of your paper in the Proceedings of the 123rd JSMP. After preparing your manuscript, the authors should go to "Manuscript Submission"site at the bottom of this page, and upload the authors' PDF file, in the submission system. All papers will be published in the Proceedings of the 123rd JSMP in a Supplement Issue of the Japanese Journal of Medical Physics (JJMP).
1.Preparation of your manuscript
1) Writing a manuscript by using template for Microsoft Word
One page manuscript for the JSMP Proceedings is required for all accepted presenters. Please download the double-column template Word file below, and replace the content with the author's work. Do not modify the template form.
The 123rd JSMP organizing committee will send the other template form to the special presenters, they should not use these double-column templates.
Please follow the license conditions with the copyright holder if you use materials from previously published or submitted source including the one submitted/published by yourself.
2) Making of a PDF file
Your final file to be submitted to 123rd JSMP must be a PDF file, which will be published as is in the JSMP Proceedings. The authors must appropriately arrange the body text, images, tables, and figures according to the template file. All fonts must be embedded in the PDF file. You CAN NOT change the title from the original one you submitted with.
2. Submission of your manuscript
Please go into the "Manuscript Submission" site at the bottom of this page, and upload the authors PDF file in the submission system. The authors must verify that the uploaded PDF file is correct. The 123rd JSMP organizing committee will not accept any files other than specified earlier. Such documents as Word files and/or email will not be accepted. When an author uploads a PDF file, a registration number and password, which were provided when the abstract was submitted, are required.
3. Period for submission
December 3, 2021 – January 6, 2022
4. Copyright of all papers in the JSMP Proceedings
The copyright of JSMP Proceedings will belong to the Japan Society for Medical Physics, however, the copyright of each extended abstract (1-page manuscript including figures/tables) belongs to the author. Therefore, the author can modify it and submit it to the journal as a scientific paper.
5. Contact information for inquiries
If you have any questions regarding the papers for the JSMP Proceedings, please use the contact information as follows:
358-5 Yamabuki-cho, Shinjuku-ku, Tokyo, Japan 162-0801 Academy Center
International Academic Publishing Co., Ltd
section of JSMP Proceedings
E-mail:jsmp-rep@bunken.co.jp
6. Links to Manuscript(PDF) Submission Site
CyPos Registration
Under constructing

Slide Registration
Under constructing

Pre-registration of Animation for presentation
Under constructing

Award Information
Under constructing